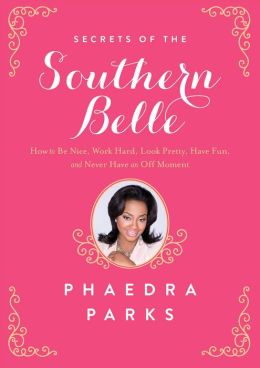 Secrets of the Southern Belle: How to Be Nice, Work Hard, Look Pretty, Have Fun, and Never Have an Off Moment
By Phaedra Parks
One of the most popular stars of the BRAVO reality show
The Housewives of Atlanta
, Phaedra Parks is an accomplished woman who is always on the move. But while Mrs. Parks has always been a successful business woman, she prides herself throughout the show as being a "Southern Belle."
Mrs. Parks has finally heard her followers and decided to answer all of their questions in her self- help book,
Secrets of the Southern Belle: How to Be Nice, Work Hard, Look Pretty, Have Fun, and Never Have an Off Moment
. She shares things that could be really beneficial to anyone, not just Southern Belles. What I admired the most about Phaedra Parks and her writing is that she is completely honest! She admits that while she knows what it takes to be a proper, respectable woman, she sometimes fails at being a Southern Belle herself. The fact that she has everything sectioned off—it's organized by section, and she even provides bulleted lists when necessary—makes the information in the book easier to access and absorb.
Parks speaks to every part of life from the social aspects, the work field, and even about personal relationships. The advice she gives within this book is valuable, relatable, and often humorous. If you're looking for a quick weekend read or are interested in how to become a Southern Belle yourself, this book is for you.
Pam Jessie
Woodlawn Library