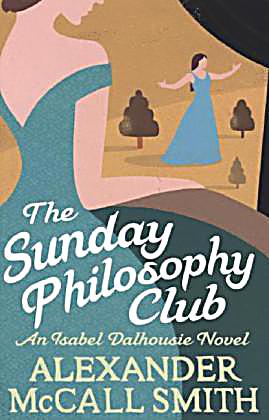 The Sunday Philosophy Club
Series
Alexander McCall Smith
Isabel Dalhousie is a piece of work, a happy, complex, intelligent, and amusing piece of work, the narrator and protagonist of Alexander McCall Smith's ten book (and counting) series,
The Sunday Philosophy Club
. As with McCall Smith's
44 Scotland Street
series (see this
recent blog piece
) we are in contemporary, bourgeois Edinburgh, but, in this case, on the south side of town, near the university, and it takes place entirely from one person's point of view: Isabel's.
Isabel Dalhousie is the editor of the
Journal of Applied Ethics
. She's a philosopher and most of the internal dialog of these books is Isabel's internal debate about right action in her daily life, applied ethics. She struggles with temptation to fall short of her standards, particularly the temptation to shade the truth or to wish ill of other people.
The Sunday Philosophy Club
is a gentle satire of high-minded Edinburgh and its vaunted intellectual traditions.
Isabel is generous and has a reputation for helping people. She has a fine home, an income that is more than sufficient, a housekeeper, the caustic Grace, and many friends. People know that, if asked, Isabel will help them untangle their problems, so we are unexpectedly drawn into fascinating corners of Scottish life and geography as she hunts the truth. She is aided by her finely honed sense of other people's emotions and honesty. In addition to Grace, the cast of continuing characters includes her aptly named niece Cat, Cat's troubled young assistant Eddie, and one of Cat's ex-boyfriends, Jamie, a professional bassoonist for whom Isabel harbors a secret love.
The
Sunday Philosophy Club
series is, at heart, about human happiness. If one earnestly applied the best thoughts of the ages to one's personal decisions and interactions with other people, would not happiness be likely to follow? In the case of Isabel Dalhousie and her happy readers, the answer is yes.
If you have never read McCall Smith, this is a great place to start. I blended my experience with audio and traditional reading. Even if you are into reading and not so much into listening, sample the audio for a priceless narration and be prepared to hear yourself laugh out loud. Snippets and individual titles can fare well as stand-alones, but the best way to enjoy this is to read (or listen, or both) to these titles in order.
Enjoy and laugh!
The Sunday Philosophy Club Series
1.
The Sunday Philosophy Club
2.
Friends, Lovers, Chocolate
3.
The Right Attitude to Rain
4.
The Careful Use of Compliments
5.
The Comforts of a Muddy Saturday
6.
The Lost Art of Gratitude
7.
The Charming Quirks of Others
8.
The Forgotten Affairs of Youth
9.
The Uncommon Appeal of Clouds
10.
The Novel Habits of Happiness
David Blake
Fiction Department
Central Library