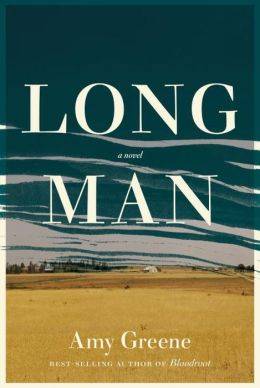 Long Man
Amy Greene
Read by Dale Dickey
Long Man
is Amy Greene's second novel and like the first,
Bloodroot
, it leaves you wanting her to hurry up and write another. They are not a series, but her stories take place in Appalachia and her characters are finely and richly drawn.
Long Man
is also the old name for the river that runs near the town of Yuneetah in East Tennessee, and is the lifeblood of the people who live along and above its banks. The TVA has built a dam and the valley (and town) are set to be flooded to bring electricity to the area. Most of the people are complacent about being relocated to a new place with more fertile land and new job opportunities, but there are a few holdouts. One of the staunchest is the orphaned Annie Clyde Dodson, who is determined that her 3-year-old daughter, Gracie, will grow up on their family farm. She runs off the government men with a shotgun, thus making it difficult to even discuss relocation. Annie's husband, James, has left to establish a job and home for them up north, but she won't budge. Even the sympathetic local law officer can't soften her, though he grew up with her mother and Aunt Silver and has known her for years. Aunt Silver lives alone further up the mountain and she isn't eager for her only remaining kin to leave either, but she's not close to Annie. She is close to Amos, a one-eyed drifter who washed up in a flood as a four year old child and was rescued raised by the local granny woman. Now Amos has come back, and no one knows exactly why he's back in the valley; Annie sees him talking to Gracie by the corn field and is frightened. The day before the town is to be flooded, James comes back to collect his family, but after supper they discover that Gracie is nowhere to be found. The few remaining townspeople search frantically for her while the government man tries to delay the flooding and Silver tries to find and clear Amos.
The writing is clear and beautiful and evokes the spirit of Appalachia during the 1930s, but what made this book perfect for me was Dale Dickey's narration. Ms. Dickey played Merab, Thump Milton's woman, in the movie,
Winter's Bone
, but she's probably better known as Patty the Daytime Hooker from the
My Name is Earl
television show. Her voice and accent are perfect for telling the story of Annie Clyde, Silver, and Amos, just the right amount of Southern with resignation and resilience coming through on every word. Southerners know a fake Southern accent and it can ruin an otherwise fine performance for us, but Ms. Dickey nails it because she knows it. She sings life and truth into Greene's characters in a way no written word could do and the result is strong and unapologetic. Even if you're not a fan of audiobooks, give yourself a treat and try this one.
Kelly Laney
Springville Road Library